In The Market for Pallets? Mississauga Companies Use The Pallet Management Group
At the Pallet Management Group, we understand how indispensable quality wooden pallets are to our valued clients in Mississauga. We are deeply committed to offering custom, environmentally sustainable solutions that not only meet your specific storage and transportation requirements but also fit your budget.
With an array of models available, we assure you that no shipping or storage challenge is too great. Let us build a trusted partnership in Mississauga, as we provide you with reliable wooden pallets that will streamline your operations and give you peace of mind.
The Trust Pallet Supplier in Mississauga
As the go-to pallet supplier in Mississauga, we take immense pride in offering a wide range of options meticulously crafted to meet the specific requirements of our customers. Whether you're in search of new wood pallets, recycled wood pallets, or re-manufactured and combination wooden pallets, we have precisely what you need. We also supply heat-treated, ISPM-15-certified pallets that comply with international shipping standards.
With our unwavering commitment to customer satisfaction, we offer the flexibility of custom-built pallets designed to your exact specifications, as well as re-assembled pallets created from recycled and refurbished components. Rely on us for dependable pallet solutions that are delivered on-budget and on-time, every time.
Your Source for Heat Treated Pallets and Wood Pallets in Mississauga
For over three decades, Pallet Management Group has been at the forefront of sustainability efforts. With an unwavering commitment to the environment, we have developed effective programs that reduce wood waste through pallet recycling, retrieval, and repair.
Say goodbye to the hassle of managing pallets and optimizing warehouse space. Our fleet of over 100 trailers in Ontario allows us to provide on-site trailer placement, consolidating used pallets and unwanted pallets seamlessly. Embrace the efficiency of our drop-and-switch trailer program, streamlining your pallet management with ease. And that's not all – we offer top rates for your recycled pallets, empowering you to both save money and contribute to sustainable practices.
Contact us today to find out more about how our quality products meet your shipping and storage needs.

We pride ourselves on our ability to create new high-quality wooden pallets that are custom-configured to match your precise specifications, whether you require standard designs or have unique requirements

As advocates for the environment, we stand by our commitment to sustainability. To fulfill this promise, we maintain a robust inventory of quality-tested recycled pallets, sourced exclusively from industry-leading partners.

Finding the perfect balance between price and quality is our priority. Our pallets offer excellent value by incorporating a blend of new and recycled components, ensuring both affordability and exceptional quality.


Equipped with state-of-the-art tools and expertise, we can build custom pallets that meet your exact specifications, be it standard designs or unique requirements.

Embrace eco-friendly practices during international shipping with our ISPM 15 certified heat-treated pallets. These carefully engineered pallets prioritize the preservation of plants and ecosystems, promoting sustainable operations.
A Diverse Selection of Top-Quality Pallets
When it comes to pallet solutions, Pallet Management Group is synonymous with trusted excellence. Serving as a top-tier manufacturer and recycler, we cater to the needs of numerous Fortune 500 companies. Operating in Ontario with extensive inventory and production space, our knowledgeable staff and 30 years of experience ensure that we are your reliable partner for all your pallet requirements.
On time delivery!
With an impressive 97% on-time delivery record, we have solidified our reputation for reliability and unwavering commitment to service. Rest assured, we will always deliver your goods on time, ensuring your satisfaction and peace of mind.
A One-Stop Shop for all Your Pallet Needs
Number One company in Pallet Recovery
Expansive inventory of the most common pallets
Heat Treat available in all sizes
Processing over 50,000 pallets a week!
28 Years in the Pallet Business
Largest inventories of recycled 48 x 40 and 48 x 45 pallets in Ontario
Highest prices paid for unwanted 48 x 40 and mixed spec pallets
CFIA approved to recycle and sell ISPM 15, heat-treated pallets
24-7 service
Number one company in pallet recovery

Large inventory of the most common pallets

Heat treated pallets available in all sizes

Processing over 50,000 pallets a week!

30 Years in the Pallet Business

Largest inventories of recycled 48 x 40 and 48 x 45 pallets in Ontario

Highest prices paid for unwanted 48 x 40 and mixed spec pallets

CFIA approved to recycle and sell ISPM 15, heat-treated pallets

24-7 pallet services
Need more info? Get in touch now!
We pride ourselves on working with our clients. We look forward to working with you.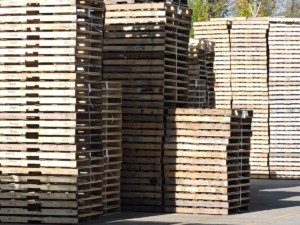 Click edit button to change this text.