The Pallet Supplier Toronto Companies Trust
When it comes to our clients in Toronto, ON, at the Pallet Management Group, we truly understand how important quality wooden pallets are. Our commitment is to offer practical and eco-friendly solutions that are customized to fit your specific storage and transportation needs, all at a reasonable cost.
With a wide variety of models to choose from, we're confident that we can handle any challenges you might be dealing with. Let us be your trusted partner in Toronto, providing the wooden pallets you need to make your workflows more efficient.
The High-Quality Pallets Toronto Businesses Need
As a premier pallet supplier in the Greater Toronto Area (GTA), we take pride in offering a range of pallets for sale solutions that cater to the specific demands of our customers. Whether the need is for brand-new wooden pallets, recycled wooden pallets, or re-manufactured and combination pallets, we have the options that will suit your needs.
Our selection also includes ISPM-15-certified, heat-treated pallets that follow international shipping regulations. Our pledge to ensure customer satisfaction is evident in our ability to offer adaptable, tailor-made pallets designed according to your exact specifications, or reassembled pallets constructed from reconditioned and refurbished components. Trust us for dependable pallet solutions that align with your budget and timeline.
Your Dependable Supplier of Heat Treated and Wood Pallets in Toronto
With three decades of expertise in the pallet industry, Pallet Management Group assumes a leadership role as an advocate for the environment, placing sustainability at the forefront. Our initiatives involve retrieval programs aimed at curbing wood waste through comprehensive pallet recycling, retrieval, and repair processes.
With a fleet of over 100 trailers in Ontario, we have the resources to station a trailer to your facility that will consolidate used pallets without any compromise to your warehouse area. Embrace the efficacy of a streamlined pallet management process with our cutting-edge drop-and-switch trailer program. We take pride in offering the highest remuneration for your recycled pallets, helping you save money as you support environmentally conscious practices.
Contact us today to learn more about how our solution can facilitate your shipping and storage needs.

Our facility is outfitted to manufacture new wooden pallets that are precisely tailored to your specifications. This enables us to cater to both standard and custom design requests, ensuring we can effectively meet your requirements.

We maintain our dedication to environmental responsibility by providing a wide selection of quality-tested recycled pallets. These pallets are sourced from reliable industry partners.

Our re-manufactured pallets come at a competitive price point and blend new and recycled components, all the while meeting our high standard of quality.

Our facility is designed to construct custom pallets according to your precise specifications, accommodating both standard pallets and custom designs as needed.

Our heat-treated pallets, which hold certification under the ISPM 15 standards, are designed for international shipping, promoting the protection of plants and ecosystems, whether the pallets are new or recycled.
An Extensive Selection of Top-Quality Pallets
Pallet Management Group, a respected leader in the industry, distinguishes itself through its roles as a proficient pallet manufacturer and a dedicated recycler, serving the requirements of multiple Fortune 500 companies. Based in Ontario, we have an expansive inventory and production area. With our seasoned team and over 30 years of experience, we are the dependable pallet partner you have been looking for, and we are ready to fulfill your pallet needs.
On time delivery!
With an on-time delivery record of 97%, we have built a reputation for exceptional service. We not only stand by our commitment but also consistently ensure timely deliveries.
A One-Stop Shop for all Your Pallet Needs
Number One company in Pallet Recovery
Expansive inventory of the most common pallets
Heat Treat available in all sizes
Processing over 50,000 pallets a week!
28 Years in the Pallet Business
Largest inventories of recycled 48 x 40 and 48 x 45 pallets in Ontario
Highest prices paid for unwanted 48 x 40 and mixed spec pallets
CFIA approved to recycle and sell ISPM 15, heat-treated pallets
24-7 service
Number one company in pallet recovery

Large inventory of the most common pallets

Heat treated pallets available in all sizes

Processing over 50,000 pallets a week!

30 Years in the Pallet Business

Largest inventories of recycled 48 x 40 and 48 x 45 pallets in Ontario

Highest prices paid for unwanted 48 x 40 and mixed spec pallets

CFIA approved to recycle and sell ISPM 15, heat-treated pallets

24-7 pallet services
Need more info? Get in touch now!
We pride ourselves on working with our clients. We look forward to working with you.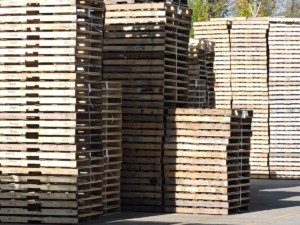 Click edit button to change this text.